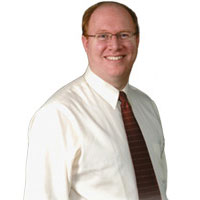 Helping Families Save Thousands Per Student on College Costs
If you're the parent of a high school student, you probably want to help your child pay for college.

You may also want to help your student find the right school, get admitted, and get on the path to success.

But planning and saving for college can seem complicated. You might not even know where to start.

That's where I come in.
I'm Brad Baldridge, a CERTIFIED FINANCIAL PLANNER ™, College Funding Consultant, and chief podcaster at Taming the High Cost of College. You can verify my background and experience at FINRA's BrokerCheck.
I help families plan and save for college. I provide expert guidance, customize planning services, and insights on the latest tax, cash flow, and academic strategies.
I have many years of experience working with families in the college planning process, where I seek to significantly reduce their college costs. I also specialize in helping students earn admission to their preferred school and realize their college dreams.
I've traveled an interesting road to becoming a college planning expert, but it was a road worth traveling. It led me to my true passion, which is helping families.
Along the way, I learned proven techniques and developed deep college planning knowledge and expertise that I'd be happy to share with you.
Brad's Road to College Planning Expert
I've traveled an interesting road to becoming a college planning expert, but it was a road worth traveling. It led me to my true passion, which is helping families.
Getting Interested in Personal Finance

It all started not long after I graduated with an engineering degree from the University of Wisconsin-Platteville in 1991. I got my first corporate job, but I also took an interest in personal finance. It was a sign of many things to come.

Investing in Real Estate

I wanted to learn the best ways to manage and invest the money I was making, and this led me to real estate. I got involved in rental real estate in 1993, and I started attending seminars and buying rental properties.

Becoming a Part-Time Financial Planner

As my interest in finance continued to grow, I got involved in financial planning part-time, earning my first investment and insurance licenses in 1994.

Making Finance My Full-Time Career

I truly loved what I was doing in finance and investments. It felt much more rewarding than my corporate work, and not just monetarily. So, in 1996, I decided to go into financial planning full-time.

Becoming a Certified Financial Planner™

By 1998, I completed all the training and exams, and I earned my Certified Financial Planner designation. It was a turning point in my career, and it put me on the final stretch to becoming a college funding specialist.

Entering the World of College Funding

As I advised my clients, I discovered early-on that many were struggling with financial planning for college. I quickly realized there wasn't much good information available to help them, so I sought it out.

I spoke to colleges, financial aid offices, college planning experts, and leaders across the higher education industry. I gathered all the insights I could, and I used them to help my clients.

I helped them find and choose the right college, complete financial aid forms, understand their expected family contribution, and learn about academic and athletic scholarships, the G.I. Bill, divorce and paying for college, and much more. In short, I became an expert on college planning.

Becoming a College Planning Specialist

By 2004, I began specializing in college planning and funding in addition to personal financial planning. This was the beginning of Baldridge College Solutions.

Sharing the Gospel of College Planning

As I began to establish Baldridge College Solutions, I continued to help families plan and save for college while sharing my expertise throughout Wisconsin and across the country. I gave my first college presentation at a high school in June 2005.

Organizing Workshops & Becoming a Guest Speaker

By 2008, I organized the first Greater Milwaukee College Workshop, where I teamed up with five other experts to give talks on test prep, choosing a school, saving for college, and other related topics.

I now give 15 to 20 presentations per year at high schools and as a guest speaker at the Wisconsin Bar Association, Wisconsin Institute of Certified Public Accountants, and the National Association for College Admissions Counseling College Fair.

Taming the High Cost of College

College planning needs more attention than it gets, and countless families need help. So, in 2013, I started creating free online courses and resources, which I make available through my website, Taming the High Cost of College. There, I share my expertise and help people get started and learn the best ways to plan and save for college.

Since I can't help everyone one-on-one, I started hosting a podcast, a blog, and delivering online resources to help as many people as possible. For those interested and able to work with me directly, I continue to provide personalized college and financial planning through my company, Baldridge College Solutions.

My Story Today

These days, I'm no longer in real estate. I got married, started having kids, and decided to sell my rental properties to focus more on my family and my financial planning business.

I now live in Hales Corners, in the greater Milwaukee area. My wife and I have three children, including a high school freshman, an eighth grader and a fifth grader. This means we have plenty of college planning and saving in our own future!

If you're in the Milwaukee area, you can also find me working at the concessions stands at many youth soccer games and school events.

I'm also continuing to help families like yours. If you're looking for expertise to guide you through the college planning process and maximize your college savings, I'm here to help. I offer multiple options to help you get started.
What I Can Do For You
Understand the college planning process
Develop a personalized step-by-step plan for your family
Save and invest for college properly and maximize savings
Stay ahead of the process and avoid panic
Learn how to increase financial aid and apply for scholarships
Learn how to pay for college with tax savings
Find schools that are a better fit and better value
Understand the college testing and admissions process
Assess the impact of college on your retirement and other financial goals
Make your child's college dreams come true.
Get Started